Welcome to Nevada Health Link, Nevada's online health insurance exchange where Nevadans can shop and apply for comprehensive, Affordable Care Act (ACA) compliant, health and dental plans in one convenient location.
Existing and new consumers will shop for and enroll for health insurance coverage on Nevada Health Link. If you have experienced a Qualifying Life Event (QLE), you may be able to enroll in a health plan through Nevada Health Link outside the open enrollment period.
This page is intended to serve as the definitive source of information for our enrollment professionals.
Agent/Broker Service Line: 1-800-547-8156
Monday through Friday: 9:00am-7:00pm PST
Saturday & Sunday: 9:00am-5:00pm PST
Reference Materials
Reference Manuals & Useful Documents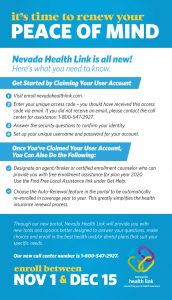 On-Boarding Guides
The following documents will assist Navigators/CACs/EEFs (collectively referred to as Certified Enrollment Counselors or "CECs") and Agents with gaining access to the Nevada Health Link SBE Platform:
The following document is only for use by "Returning Agents" who were part of the bulk data migration from HealthCare.gov. If you did not receive an email invitation to claim your user account in early July then you should use the "Nevada Health Link Agent On-Boarding Guide" listed above.
Defining Agent Roles
Returning Agent: Those who assisted at least one consumer with a Plan Year 2022 enrollment during Open Enrollment.
Important dates for Returning Agents:
October 15 – Deadline to complete the OE22 Nevada Health Link's New and Returning Broker & Agent Certification Course.
November 1 to January 15– Open Enrollment Period. Nevadans enroll for qualified health plans on NevadaHealthLink.com
New Agent: means you did not assist any consumers with a Plan Year 2022 enrollment during Open Enrollment Period (OEP). This group includes:
Agents/Brokers who may have assisted consumers with enrollments for Plan Year 2021 or prior, but who did not assist consumers during Plan Year 2022 OEP
Agents/Brokers who may have assisted consumers with SEP enrollments for Plan Year 2021, but who did not assist consumers during Plan Year 2021 OEP
Previous Web Meetings