Who we are and what we do…
Shopping for health insurance can be intimidating. But don't worry! Nevada Health Link has some awesome people who really care about you and your family's health.
Our team made a video to help you understand why Nevada Health Link is here and what we do every day to help Nevadan's get connected to quality health insurance plans:
Welcome to the new Nevada Health Link, a message from the Executive Director:
For plan year 2020, you will need to use NevadaHealthLink.com instead of HealthCare.gov to shop for and enroll in health insurance that begins January 1, 2020
Watch stories of real Nevadans:
From the well-planned to the unexpected, life's circumstances can change course in an instant. Nevada Health Link has helped thousands of Nevadans navigate their options to find affordable health insurance that's just right, and we can help you too. Gain peace of mind knowing you and your family are connected so you can focus on the journey ahead.
Here are stories from a couple of Nevadans who have enrolled through our Marketplace:
Elliot
Eliot enrolled on a plan "off-exchange" that was marketed as full health insurance coverage, but soon found out that it had major gaps in coverage. He has since enrolled in a Nevada Health Link plan and has been pleased with mandated coverage offered by an Exchange plan
Joe O.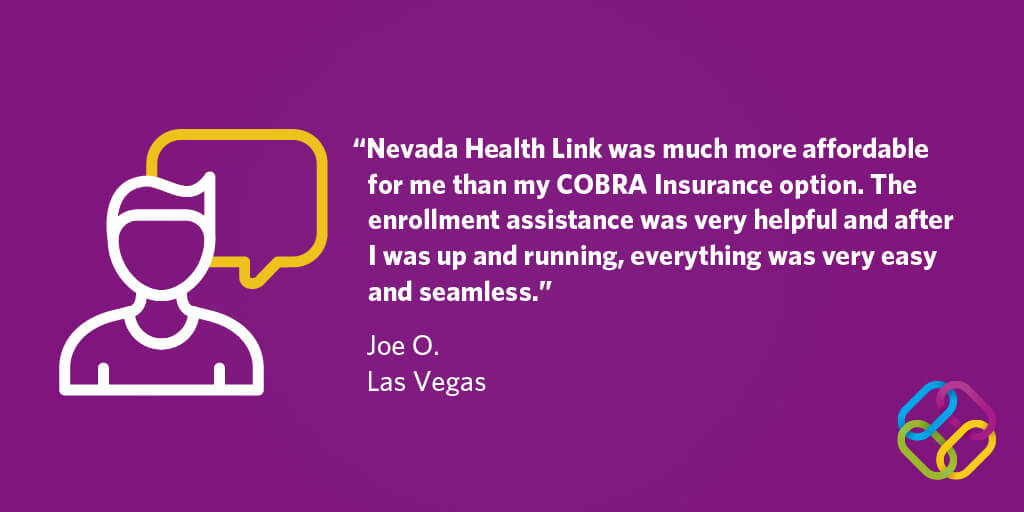 Edward Denaut
In late 2014 Edward began feeling different and when he touched his stomach there was a sharp pain. Edward and his wife traveled to California to visit some family for the holidays. On Christmas morning Edward could not handle the pain any longer and visited the emergency room. A cat scan revealed that he had a big abscess in his intestine and rushed him into surgery to remove three feet of his intestine. In May 2015 Edward had a heart attack, after two operations he is doing a lot better. Thanks to his health insurance plan with Nevada Health Link his out of pocket costs were affordable. Edward encourages everyone to purchase health insurance, life is full of surprises and you never know when you will require medical attention.
Michael Niskar
As a child, Michael was diagnosed with Mitral Valve Prolapse, which is a very common heart condition. In 2014 he began to experience back pain and needed treatment. Michael learned about the Affordable Care Act and visited Nevada Health Link's website where he was able to purchase a qualified health plan, for the first time in his life he was able to afford health insurance with a pre-existing condition. Michael visited a doctor and was diagnosed with a herniated disc and spinal stenosis. In 2015 his cardiac issues worsened and he required surgery to replace a mitral valve. Prior to his heart surgery, doctors told him that his heart was becoming so enlarged that he probably would have not survived another year. Michael says the Affordable Care Act literally saved his life.