The Enrollment Process
The first step of the enrollment process is to provide some basic information about your income and household composition by answering a few questions using our exchange eligibility pre-screener tool. If the tool identifies potential Medicaid/CHIP eligibility then you will be directed to submit a Medicaid application. Learn more about the plans Nevada Health Link offers.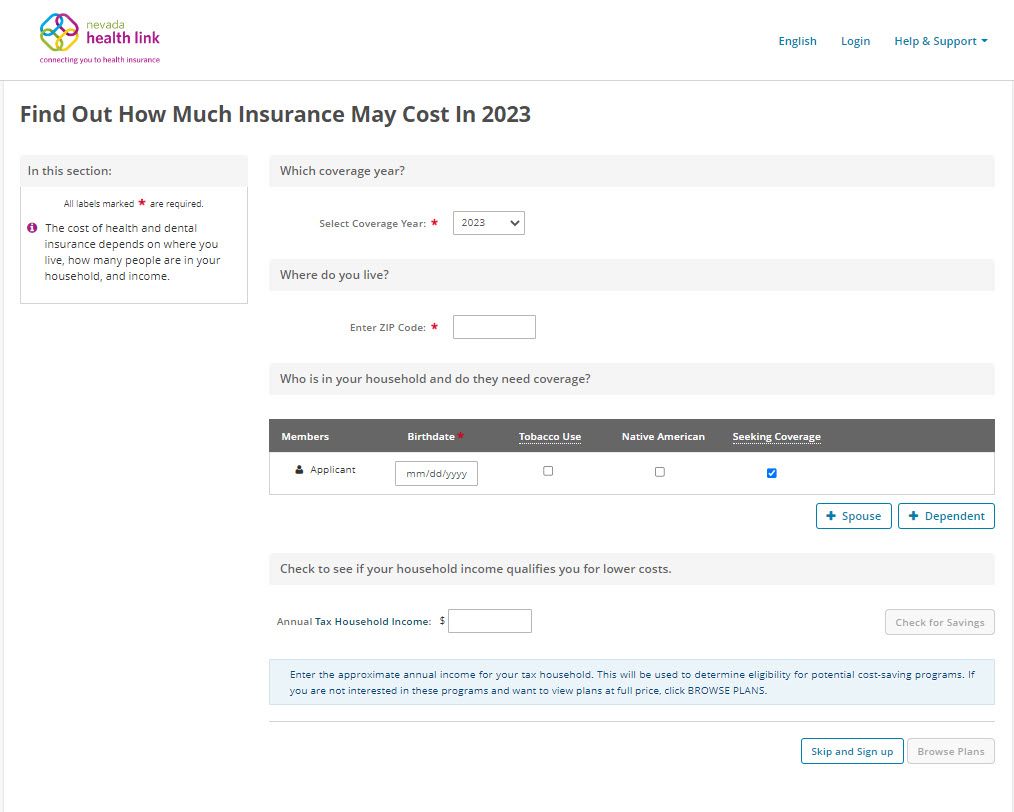 Eligibility
The Affordable Care Act is intended to provide the lowest cost health coverage for an individual or family based on their income level. For individuals or families whose income is below 138% of the Federal Poverty Line (FPL) the lowest cost option is often Medicaid. Individuals or families whose income is greater than 138% FPL typically will not qualify for Medicaid, but may qualify for financial assistance such as insurance subsidies known as Advance Premium Tax Credits (which lower monthly insurance premiums) or Cost Sharing Reductions (which lower the cost of medical services). In addition, adults who do not qualify for Medicaid may still have children who qualify for assistance through the Children's Health Insurance Program (CHIP). The most important part of the enrollment process, then, is to determine which level(s) of coverage you or your family may qualify for.
Enrollment Periods
Enrollment for a Qualified Health Plan (QHP) through Nevada Health Link is typically limited to the Open Enrollment Period, which occurs only once per year. The Open Enrollment period begins on November 1 and ends on January 15. In order to receive coverage by January 1, you must complete your application by December 31. If you enroll in January, your coverage will be effective February 1. For more information on Open Enrollment please see What is Open Enrollment?
Individuals who experience certain types of life changes may qualify for a "Special Enrollment Period (SEP)," which allows for changes in enrollment any time of year. Qualifying Life Events include changes to income/employment, residence, or family composition. To learn more about SEP, visit https://www.nevadahealthlink.com/reporting-life-and-income-changes/.
If you're looking for coverage for plan year 2023:
Get Help With Enrollment
Nevada Health Link provides a number of options for help with the enrollment process. For a complete list of resources please visit our Get Help page.
For free in-person assistance please use the broker directory to locate a licensed agent/broker or enrollment professional near you.