Find out how much health insurance may cost and what you're eligible for:
Are you ready to enroll in a qualified health plan? You can begin the process and see if you qualify by answering a series of questions about your income and household composition.
This year, Nevada Health Link enrollment will take place on its' own State Based Exchange platform. The below link "Estimate My Costs" provides estimates of health insurance premiums and subsidies for individuals or families. You will need to enter your location (zip code), income, age, and family size to estimate your eligibility for subsidies and premium assistance. Once you find the right plan you can begin the application and open enrollment process immediately.
Learn about Income Based Costs and Eligibility for Nevada Health Link plans
How much you pay each month for health insurance can be based on your annual household income. The chart below provides guidelines to the poverty threshold and shows different income levels relative to household size and a measurement called the Federal Poverty Level (FPL). The income below is only showing FPL levels from 138% to 400%. This is the range that consumers are eligible to receive financial subsidies through Nevada Health Link.
2022 Federal Poverty Level (FPL) Chart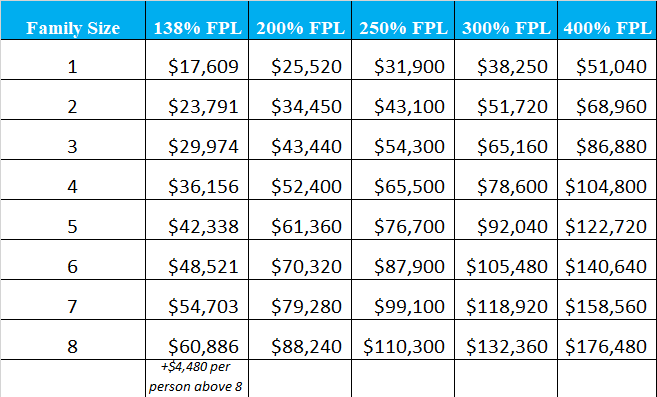 2023 Federal Poverty Level (FPL) Chart
The newly implemented American Rescue Plan protects everyone. No one will pay more than 8.5% of their income on health insurance premiums, and those with incomes above 400% of FPL may now qualify for subsides. Learn More: American Rescue Plan FAQs
For families/households with more than eight persons, add $4,480 for each additional individual. 100% of the FPL is $12,760 for an individual.
See more at: https://aspe.hhs.gov/poverty-guidelines
Medicaid Eligibility
If you are unsure what you qualify for, you can find out what you're eligible for by answering a series of questions on the Nevada Division of Welfare and Supportive Services pre-screener tool at Access Nevada to determine whether you are eligible for Medicaid or other state benefits. Here you will also input information about your income and household composition. The Access Nevada tool is designed to identify potential eligibility for Medicaid or Children's Health Insurance Program (CHIP) benefits.
PLEASE NOTE: Children in certain households may qualify for CHIP even though the parents/adults in that household do not qualify for Medicaid benefits. To learn more please visit our page on Medicaid eligibility.
ALSO: If no Medicaid eligibility is identified then you will be redirected to Nevada Health Link's SBE Qualified Health Plan (QHP) application and enrollment process.
If you're ready to begin the Medicaid application process you can start the pre-screener now (PLEASE NOTE: you will be directed away from the Nevada Health Link website).