How to Enroll at Nevada Health Link
With Nevada Health Link's Jan. 15 open enrollment deadline quickly approaching, Nevadans have multiple ways to enroll in a qualified health plan and there is a lot of enrollment assistance available to you. 
Through

NevadaHealthLink.com's online platform

: Anonymously shop for plans and find the best deal before you enroll. 

By calling Nevada Health Link's Call Center: 1-800-547-2927

Through a certified insurance broker or navigator. Find free local assistance by calling the call center or

search online

. 
Whether enrolling online, by phone or with an enrollment professional, you will need certain documents and information to complete your insurance enrollment. Here are the documents to have on hand when you start the enrollment process:
Valid Nevada Driver License 

Social Security Card

 Proof of Nevada Residence 

Household Income Estimate

Current Health Insurance

 Nevada Health Link Login Credentials 
Step-by-Step Online Enrollment
Nevada Health Link is the place where you can shop, compare and choose the plan that best fits the needs of you and your family. And Nevada Health Link is the only place where you can get subsidies or tax credits to assist with paying your monthly premium Nearly 90% of enrollees qualify for financial assistance. Here is a step-by-step look at the enrollment process:
Tell us about your healthcare needs.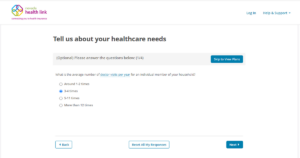 Determine your income.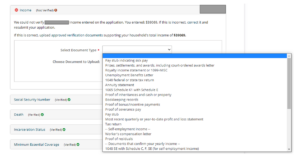 Nevada Health Link savings are based on your expected household income for the year you want coverage, not last year's income. For help estimating this, click here. 
Set up your Nevada Health Link account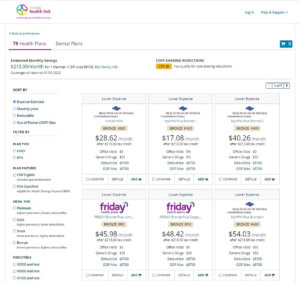 Identity Verification. You may need: Social Security Number and documentation numbers for anyone with eligible immigration status 

Family & Household Information. For anyone else you want to insure, you will need: Names, addresses, Social Security number, birthdates, and document numbers for anyone with eligible immigration status 

Income Verification. You may need: Pay stubs, W-2 forms, information about income (Pension, Scholarship, alimony received, Social Security benefits, retirement, capital gains, unemployment, etc.) and deduction sources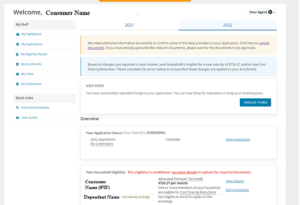 Did you receive DMI (Data Matching Issues) notification? If so, free enrollment assistance is available through brokers and navigators. They can help you with your application and missing documents. The following steps provide a guide that may assist you. 
You may also work through the DNI process yourself. 
First, click the "upload documents" link. A screen will the show you a red exclamation point and the words "not verified" where an issue has occurred and this information need to be verified. 
Click on the "+" sign, and from there you will have the option to upload the requested documentation. You will need to choose the document type they are uploading from the drop down menu.  Once the document type is chosen, click "Choose File" and once the appropriate file is chosen, click "Submit". 
After the document is uploaded, a ticket will be created and sent to Nevada Health Link for review. Once a decision is made you will receive a notice in your secured inbox informing you whether the document was accepted or rejected.