As a parent, your child is the main priority in your life. Protecting their well-being means making sure you have their health covered through an insurance plan that fits your family's needs. We've compiled the best health insurance options for single parents in Nevada.
Discover whether your child is eligible for free health care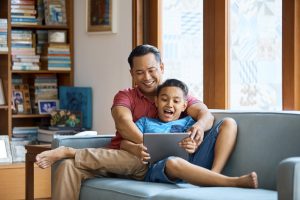 Depending on your income, one option for single parents is determining whether your child or children qualify for government assisted programs such as Medicaid or Nevada Check-Up which could be of no cost to you or reduced-cost health insurance. Nevada Check Up is the State of Nevada's Children's Health Insurance Program (CHIP). Depending on your household income, your children may qualify for coverage through Nevada Check Up. If you qualify, you may be required to pay a quarterly premium based on your family size and income, but you won't be responsible for co-payments and deductibles.
Find out if you are eligible for free health insurance
Depending on your income and family size, you or your family members may qualify for government-provided health care, such as Medicaid. If you do qualify for Medicaid, there is no limited-enrollment period, meaning you can enroll at any time. Once you have Medicaid, you are considered covered and do not have to purchase health insurance through the Nevada Health Link marketplace.
In Nevada, households with annual incomes of up to 138 percent of the Federal Poverty Level (FPL) may qualify for Medicaid. This is $17,236 per year for an individual, or $35,535 per year for a family of four (based on the 2018 FPL).
For more information on Medicaid in Nevada or to shop for income-based health insurance plans, visit the Division of Welfare and Supportive Services pre-screener.
Learn more about tax credits and payment assistance for health insurance in Nevada
If you don't qualify for Medicaid, you still may receive payment assistance through the Nevada Health Link marketplace. When applying for health insurance, you'll discover if you qualify for premium tax credits. which is financial assistance that comes from the federal government for individuals who are at 138-250 percent of the FPL. Over 80 percent of Nevada Health Link enrollees are eligible for payment assistance and Nevada Health Link is the only place you can get government payment assistance. Talk with an I today to learn more about your options and see if you are eligible for a tax credit.
Discover more resources for health insurance options for single parents
The Nevada Department of Health and Human Services offers numerous resources to help Nevadans get access to quality health care. Visit their website to learn more about their programs.
Additionally, learn more about Qualified Health Plans (QHPs) and the benefits they provide your children. All QHPs offered through Nevada Health Link include pediatric care, including vision and dental, as a part of the 10 Essential Health Benefits. Make sure to do your research on what your health insurance plan includes to ensure it will cover your child's health when you need it most.
If you're not currently enrolled in health insurance, certain qualifying life events (QLE) may make you eligible for a special enrollment period. QLE's are life-changing events such as job loss, income change, marriage/divorce and birth/adoption of a child to name a few. 
To learn more or receive answers to additional questions that you may have, email the Nevada Health Link staff at customerserviceNVHL@exchange.nv.gov.