Shop before you buy
Did you miss the opportunity to enroll in a Qualified Health Plan through Nevada Health Link? Although the deadline to enroll in coverage ended on Jan. 15th, you or a loved one may be eligible to enroll now if you report a life or income change. Anonymously window shop to see what health insurance plans are available to you.
Window Shop
Starting October 1st, Nevadans can prepare for open enrollment 2023 (Nov. 1) and find a qualified health insurance plan that is best suited for their needs. Start anonymously window shopping with Nevada Health Link today. There's nothing like the peace of mind that comes from affordable health coverage. Nevadans can prepare for open enrollment and find a qualified health insurance plan that is best suited for their needs.
Nevada Health Link is the ONLY place where you can get financial assistance, known as subsidies, to help pay your monthly insurance premium costs. We encourage you to "window shop" insurance plans on Nevada Health Link in order to prepare for open enrollment. Window shopping allows you to preview all plans, while exploring details about monthly premiums, deductibles, out-of-pocket costs, co-payments, and coinsurance amounts. Through the shopping experience on our state based exchange platform, you'll be able to see the different plans offered through three different insurance carriers
How much you pay each month for health insurance is based on our annual household income. The chart below provides guidelines to the poverty threshold and shows different income levels relative to household size and a measurement called the Federal Poverty Level (FPL). The income below is only showing FPL levels from 138% to 400%. This is the range that consumers are eligible to receive financial subsidies through Nevada Health Link.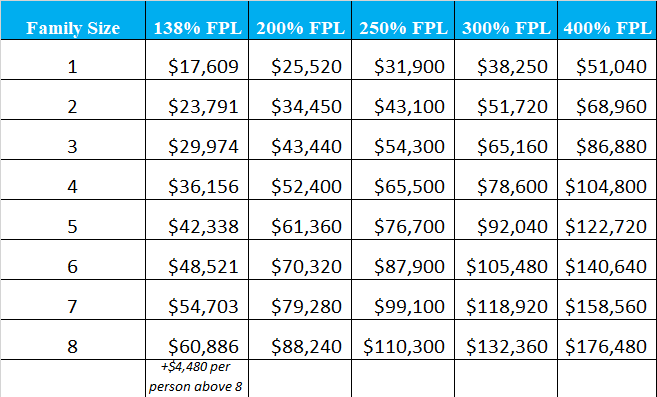 For families/households with more than eight persons, add $4,420 for each additional individual. 100% of the FPL is $12,490 for an individual.
See more at: https://aspe.hhs.gov/poverty-guidelines
Before buying health insurance, be sure to ask yourself these questions:
> How often do I need care?
> What services do I need?
> How much can I afford?
> Where do I like to go for care?
> Are my medications covered?
> What matters to me most?
Ready to Window Shop?
Window Shop now, it's free! To begin, navigate to enroll.nevadahealthlink.com and click 'Browse for health & dental plans'б
Next, enter your zip code, birthday, and your annual tax household income (you will also have the option to add family members):
Next, you will have the option to answer a few questions about your healthcare needs or you can skip to view plans.
You will be able to view and compare plans.
FAQs
Individuals and Families. Find answers to common questions from individuals.
Find
Manage your Current Plan
Sign in on NevadaHealthLink.com to view existing plan.
Login
What is a Special Enrollment Period?
If you've recently experienced a Qualifying Life Event (QLE), you may be eligible to enroll in a health plan through Nevada Health Link.
Learn More