Tis the season for fallen leaves and football games, ghosts and goblins, and all sorts of changes. And while there is much to look forward to, the variety of in-season fruits and vegetables is at the top of our list. With September being
Fruits and Veggies–More Matters Month
, we want to share what fresh foods you should have on your plate this fall.
Only one in 10 adults meet the federal fruit and vegetable recommended intake. Not only does the lack of fruits and vegetables in one's diet increase the risk of chronic diseases such as diabetes and heart disease, it may also contribute to depressive symptoms. Start increasing your vegetable and fruit intake by trying out these seasonal foods and recipes.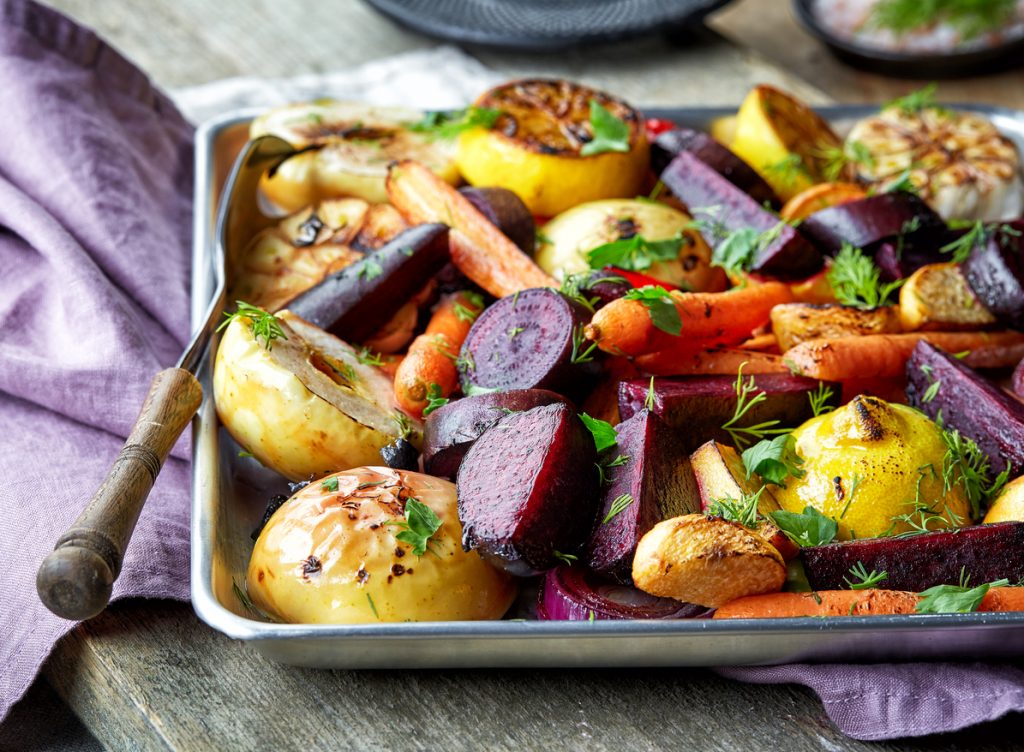 Cauliflower
Don't underestimate the power of cauliflower; it is a good source of antioxidants and high in fiber, while also being a great alternative to carbs. This vegetable also contains Indole-3-carbinol, a chemical compound that helps the liver in its detox functions. To mix it up, try this oven-roasted cauliflower dish that is vegan and gluten-free.
Beets
You can't beat the benefits of beets. This root vegetable supports brain health, reduces inflammation and helps keep your blood pressure in check. Like cauliflower, beets have the ability to detox your body and can even reverse a fatty liver. For a twist on a traditional beet salad, roast them and add a balsamic glaze for a complimentary flavor.
Pomegranates
Pomegranates are loaded with antioxidants that can protect you from diseases such as Alzheimer's, cancer and heart disease. Pomegranates contain fiber, protein, vitamin C, vitamin K and potassium. If you're hosting an upcoming football watching party, this pomegranate salsa is a must try.
Brussels Sprouts
Just when you thought brussels sprouts weren't your thing, think again. Brussels sprouts have been proven to fight chronic diseases, including cancer. This superfood is a good source of fiber, manganese, potassium and even contains protein. To add some flavor to this superfood, sauté them in a large skillet with chopped onions, garlic and bits of hickory bacon.
Apples
It's been said that an "apple a day keeps the doctor away," and for good reason. A medium apple is equal to a cup and a half of fruit—and apples are best known for boosting your immune system. They also help reduce cholesterol and improve your heart health. And although eating raw apples is the best way to get your nutrients, having an occasional treat never hurt. Try baking this crispy, warm apple pie that will give you a taste of fall year-round.
Sometimes eating all your fruits and veggies is easier said than done. However, by focusing on the benefits of these fall power foods, the task might be easier to swallow. Because although it's enticing to steal your kids' Halloween treats, eating fruits and veggies is the trick to having a happier and healthier life.  If you need additional help to eat healthier, Nevada Health Link's qualified health plans cover Nutritionists.
If you're not currently enrolled in health insurance, certain qualifying life events (QLE) may make you eligible for a special enrollment period. QLE's are life-changing events such as job loss, income change, marriage/divorce and birth/adoption of a child to name a few. Nevada Health Link can connect contact a certified broker or navigator to see if you qualify for special enrollment.
Email us at CustomerserviceNVHL@exchange.nv.gov for any additional questions you may have concerning affordable health insurance and start your enrollment process today.